Port of San Diego to review $3B plan to redevelop Seaport Village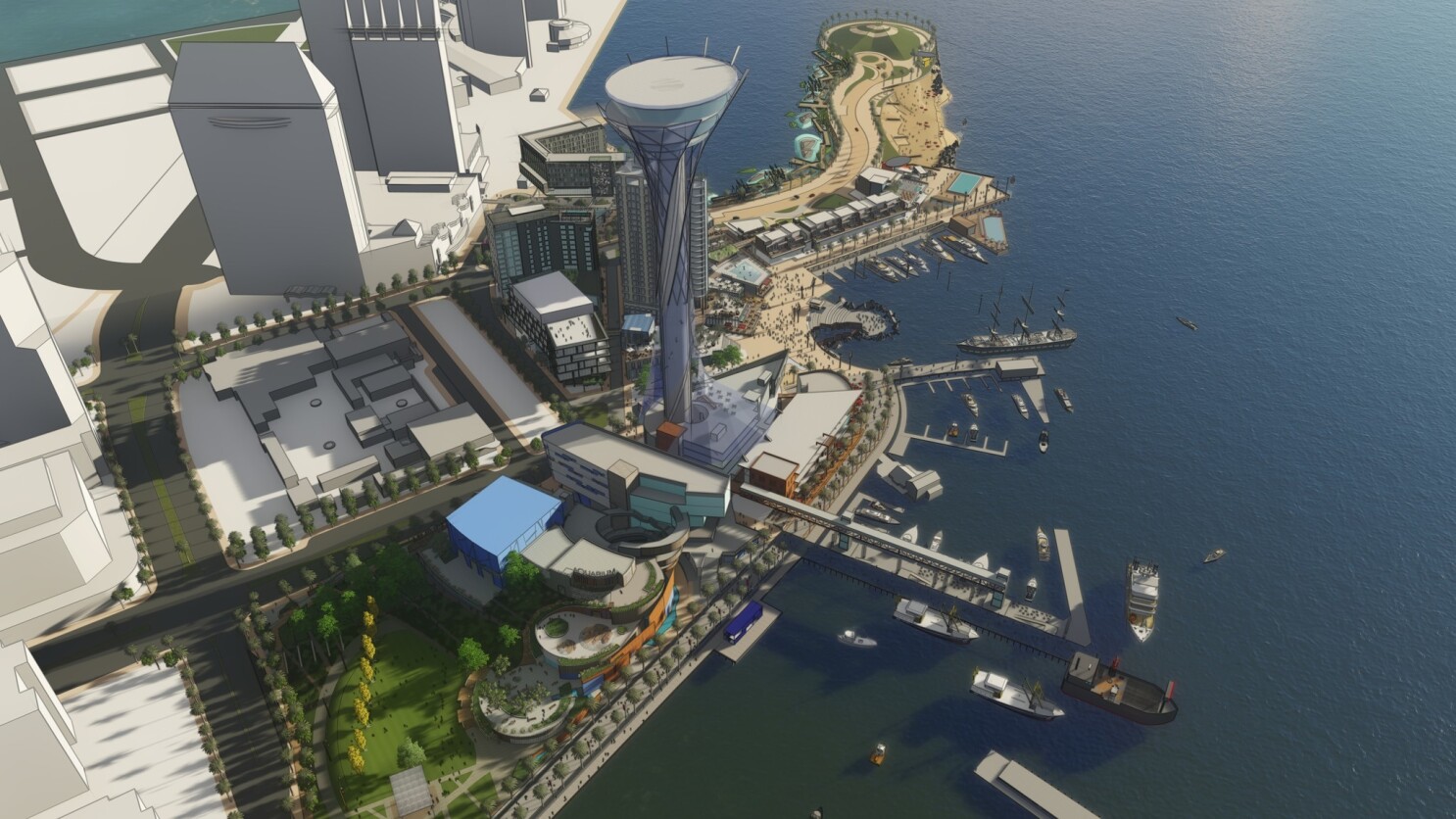 Port of San Diego commissioners on Tuesday began a review of a proposed plan to redevelop the Seaport Village area in downtown San Diego.
The proposed project is from developer 1HWY1 and is expected to cost more than $3 billion. The redevelopment will feature a 500-foot tower with observation decks, an aquarium, multiple restaurants and retail shops, and public space for parks and walkways. There are also plans to build an indoor concert venue, as well as a range of hospitality options, from hostels to 5-star hotels.
Yehudi "Gaf" Gaffen, the CEO of Waterfront Development, said, "We want to make it attractive. If you want to come to the beach and have an ice cream or if you want to come to a white table clothed restaurant. It will be good for everyone."
However, the proposed plan is not without challenges — there are some concerns over an earthquake fault line under the area where the project will be built.
The developer said they have spent millions of dollars in research to figure out ways to safely build around the fault line.
Additionally, the developer has checked in with national engineering experts and met with city officials to make sure the project plans pass codes.
Gaffen added, "It's something that exists. It's something we have to work around our whole design has been done to keep people safe and keep structures away from the fault."
While the plan was presented to the Port on Tuesday, the public will have an opportunity to weigh in on the proposal.
ABC 10News spoke to several tourists and some visitors about their thoughts on one of San Diego's most popular destinations.
Cheryl Dell'Anno, who grew up in San Diego, said, "Seaport Village has this unique charm. I'm 61, and at 16 it looks exactly the same. I think it needs to get revamped."
Dell'Anno told ABC 10News she's hoping the revamp will tailor to out-of-towners and locals alike.
"It needs to bring locals also, not just tourists. That's what people downtown talk about: Where are we going to eat? That's not touristy … we need a place with local feel," she added.
This article was originally written by Jermaine Ong and appeared here.