New Star Wars Land Construction at Disneyland to Begin in April
No date set for the opening, but Disney chief Bob Iger says it will be a "jaw-dropping new world."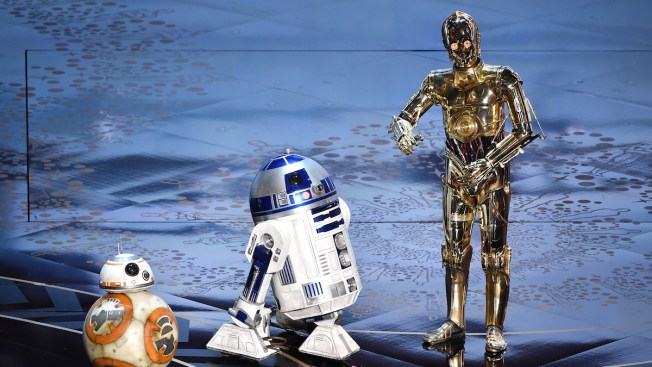 Getty Images
HOLLYWOOD, CA – FEBRUARY 28: (L-R) BB-8, R2-D2 and C-3PO from 'Star Wars' appear onstage during the 88th Annual Academy Awards at the Dolby Theatre on February 28, 2016 in Hollywood, California. (Photo by Kevin Winter/Getty Images)
By Paolo Uggeti
Light sabers, stormtroopers and Jedis are one step closer to arrival at Disneyland, with construction of the "Star Wars" land slated to begin at the Anaheim theme park next month.
At the company's annual shareholders meeting, Chief Executive Bob Iger said the 14-acre project will be the biggest expansion to the park in decades.
"We're creating a truly jaw-dropping new world that's going to transport our guests right into the Star Wars story," Iger said.
Iger said the new land will have two main attractions, including a pilot ride in Han Solo's Millennium Falcon. Earlier this year, the park closed some of its Frontierland attractions to begin planning for the Star Wars expansion.
Disney is also expected to open up a second "Star Wars" Land at the Walt Disney World Resort in Orlando, Fla., but Iger did not set opening dates for either project.
During the meeting, Iger extolled the praises of the movie "Star Wars: The Force Awakens," citing its box-office records in the United States and worldwide.
"It is the first film in history to exceed $900 million in domestic box office and it has surpassed $2 billion worldwide, more than doubling the last Star Wars movie which was released 10 years ago," Iger said. "So, clearly the force is with us."
Iger also said that the next Star Wars movie has already been shot, and that the third has already begun preproduction.