Homeowners look to landscaping for personalization, value-add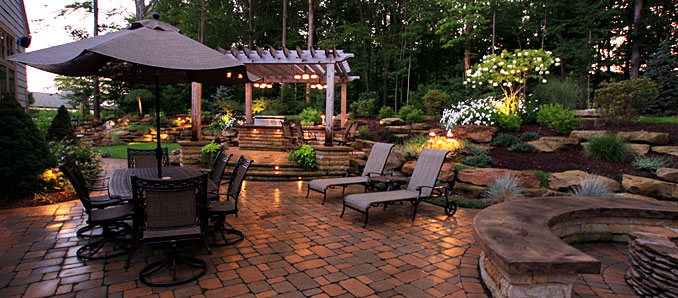 Brief:
Homeowners are using landscaping to personalize their yards, according to a recent Houzz survey of 1,000 U.S. homeowners using the website who are currently working on, planning or recently finished an outdoor project. Just 6% of front yards look almost exactly like others nearby after such projects, compared to 36% before.
Reasons for owners to engage in this kind of work include the desire to personalize a new-home purchase (33% of respondents in 2017, up from 25% in 2016). Most minor projects cost $5,000 or less (73%). More than half of owners that overhauled their spaces spent more than $15,000 (55%).
Lighting was the most popular outdoor system update (45%), with nearly one in five being smart lighting systems. Outdoor kitchen investments are also popular, with 10% of respondents opting for a grill and either built-in cabinets, a sink and/or a refrigerator, as well as 32% adding fire pits.
Insight:
The volume of lower-cost outdoor renovation work suggests that owners are seeking to add value to their homes in the current seller's market while making them livable for themselves in the meantime. As has historically been the case, landscaping remains a primary way for owners to distinguish their properties among the neighborhood.
Residential remodeling spending hit a high of $361 billion in 2016, according to a new report from the Joint Center for Housing Studies of Harvard University. The JCHS forecasts continued growth in home-improvement spending across 43 of the 50 largest U.S. metros in 2017 — with spending in those markets expected to jump 6.8% from 2016. Overall, the category is expected to grow 2% annually through 2025.
Falling in line with the JCHS's predictions, a recent survey by the American Institute of Architects noted strong demand for outdoor kitchens in the fourth quarter of 2016. The study found that additions and alterations ranked among the most widely chosen construction activities during the year (54% in 2016), followed closely by kitchen and bath remodels (51%).
Many studies suggest confidence in the sector, with the JCHS's Leading Indicator of Remodeling Activity forecasting home-improvement spending to increase 6.7% to $317 billion this year, falling in line with last year's 6.9% growth and pointing to steady activity in the industry.
This article was originally written by Mary Tyler March and appeared here.