67 years later, California highway upgrade comes to site of James Dean's deadly crash
James Dean died on Sept. 30, 1955, when his Porsche Spyder collided with a pickup truck on Highway 46 East. Tribune file photo Courtesy of Seita Ohnishi
---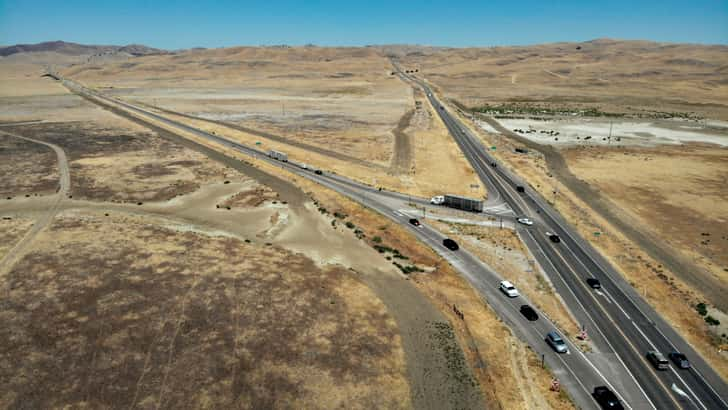 Nearly seven decades after the head-on crash that killed actor James Dean, the deadly interchange on the highway linking the San Joaquin Valley to the Central Coast will finally be reconfigured into a four-lane expressway.
On Friday, Caltrans announced that the California Transportation Commission had approved funding for the $171 million project, which will break ground in March and take three years to complete.
The long-awaited upgrade will replace the dangerous Cholame "Y" interchange with a flyover connection that routes Fresno-bound traffic from Highway 46 East to northbound Highway 41.
The stretch of renovated road includes the location of Dean's Sept. 30, 1955, fatal head-on collision, where his Porsche Spyder collided with then-Cal Poly student Donald Turnupseed's sedan turning left across the roadway to Highway 41.
It has long been the key missing piece in years of upgrades to widen the highway that was long known as "Blood Alley."
The project follows the widening of a five-mile segment of Highway 46 East between the Shandon Rest Area to east of the Jack Ranch Café, according to a news release from Caltrans. The café is the site of the memorial honoring Dean.
"We are pleased to have received this funding allocation to continue these safety improvements in this important east-west corridor," Caltrans District 5 Director Tim Gubbins said in the release.
Atkinson Construction of Irvine received the contract to complete the renovations to the highway, the release said.
"The San Luis Obispo Council of Governments applauds District Director Tim Gubbins' leadership to secure the funding needed so the planned grade-separated interchange at the Highway 46 and 41 Junction can proceed on schedule. This improvement will serve so many Californians traveling to and from the coast," San Luis Obispo Council of Governments Executive Director Peter Rodgers said in the release.
Once this project is complete, only one final 3.5-mile segment of Highway 46 East along the Antelope Grade in San Luis Obispo County to roughly half a mile within Kern County will remain to be widened at a later date, the release said.
"At the completion of these corridor projects, Highway 46 East will become a four-lane divided expressway from U.S. 101 in Paso Robles to I-5 in Lost Hills in Kern County," the release said.
 Eugene Pellegrini of Capitola places flowers at the James Dean memorial in Cholame in 2005. Dean died in a car crash near there in 1955. David Middlecamp dmiddlecamp@thetribunenews.com
James Dean AP photo James Dean is shown as Jim Stark in a scene from the 1955 movie "Rebel Without A Cause." Associated Press
Like many actors of his generation, James Dean developed a passion for auto racing, and owned a series of increasingly fast cars during his all-too-short life.
In March 1955, just before filming began on the classic movie Rebel Without A Cause, Dean drove his 1955 Porsche Super Speedster at the Palm Spring Auto Races event, finishing first overall in the novice class and second overall in the main event.
During production on his next (and sadly final) film Giant he was banned from racing by studio executives, but was determined to disobey them if he could.
Towards the end of the shoot in September 1955 he traded his Super Speedster for an even more powerful Porsche 550 Spyder, and had it custom painted with the nickname 'Little Bastard' as an act of defiance.
Two days after acquiring the Porsche, Dean spotted fellow actor Alec Guinness outside the Villa Capri restaurant in Hollywood and went over to introduce himself.
He also asked Guinness to take a look at his new car, and received the now-legendary premonition from the British actor: "If you get in that car, you will be found dead in it by this time next week."
That fateful meeting took place on September 23, 1955 – and seven days later James Dean was dead.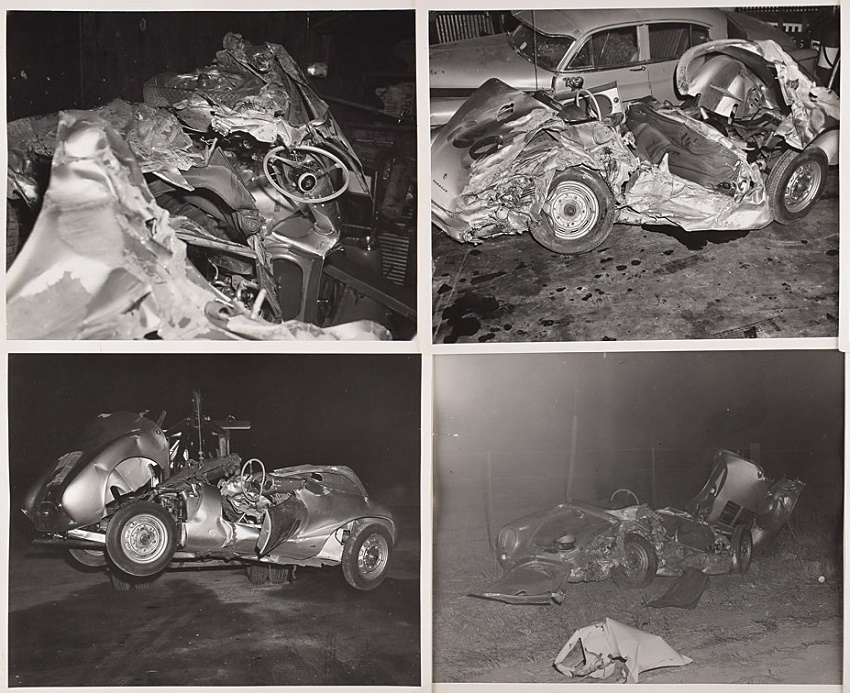 Whilst on their way to compete in a weekend of races in Salinas, Dean and his mechanic Rolf Wutherich were struck by a 1950 Ford Tudor driven by Donald Turnupseed.
Although Dean was killed in the crash and his passenger Wutherich was badly injured, Donald Turnupseed survived remarkably unharmed, with just facial bruises and a bloodied nose.
The archive document the accident site at the junction of Route 466 and Route 41 in California, where the accident took place, and the infamous stretch known as 'the racer's road', used as a shortcut by speeding sports car drivers on their way to Salinas.
Turnupseed was later found 'not guilty' of dangerous driving during the inquest into Dean's death, which was ruled as "accidental death with no criminal intent".
This article was originally written by John Lynch and appeared here.